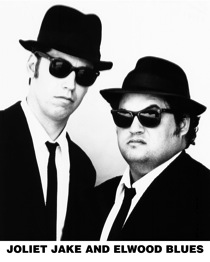 These amazing impersonators are one of the top corporate acts in the country and have performed for hundreds of corporations including Xerox, House of Blues, Icon, Chrysler, McDonalds, Disney, Microsoft, AAA, AT&T, Pfizer, and many more. They have also opened for many headline acts such as KC and the Sunshine Band, Steve Winwood, Hall and Oates, The Commodors, The Backstreet Boys, and have performed with the original Blues Brothers Band. They recently rang the bell at the NYSE for Bally Gaming Systems, and performed for 250,000 people to open up the DAYTONA 500. Jake and Elwood have also raised over $1 million dollars for charities,
There are many show options ranging from a duo performing live to track, all the way up to a complete package including a 9-piece band with full horn section. This interactive show boasts up to 60 minutes of non-stop energy complete with all of the familiar songs from the hit movie "The Blues Brothers" and "Saturday Night Live". A great way to kick off any meeting, bring the house down after an awards ceremony, or save as the featured act for your corporate function.
The Band Show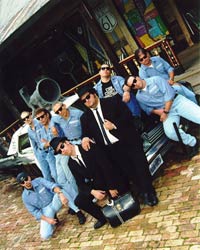 The lights go out and as the curtains open revealing the "Blues Brothers Band", wearing prison shirts, getting everyone in the "blues mood" as they play "Green Onions". At the end of the song, the Blues Brothers familiar intro music begins. As "Can't Turn You Loose" plays, Jake and Elwood are introduced. With briefcase in hand, Elwood takes center stage, while Jake unlocks the handcuffs and launches into his trademark cartwheel, kick-starting this Broadway style production.
Over the next 60 minutes, your audience will be dancing in the aisles as Jake and Elwood sing their greatest hits, including "Soul Man", "Everybody Needs Somebody", "Gimme Some Lovin'," "Rawhide," and many more. The Blues Brothers bring the house down with "Sweet Home Chicago" as they lead your CEO or special guest to the stage to join Jake and Elwood as an "Honorary Blues Brother." Your pre-selected victim will be presented with sunglasses and instructed to dance with Elwood to the delight of the screaming fans. By the end of the song, Elwood will be in the audience forming a human "Blues Train" that will have everyone on their feet
The Blues Brothers™ is a registered trademark of Applied Action Research Corp. and Judith Belushi Pisano, and is used by permission under license from Blues Brothers Approved Ventures LLC. All rights reserved, no reproduction without prior written permission.