Show Options
Blues Brothers singing live to track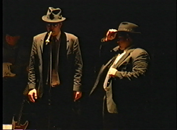 20 Minute show featuring all of the hits from the movie and "Saturday Night Live" including "Soul Man", "Gimme Some Lovin", "Sweet Home Chicago" and much more. One lucky victim will be brought to the stage and crowned as an "Honorary Blues Brother". This high-energy show features lots of audience participation, and is a great opener for breakout sessions, awards ceremonies, and after dinner entertainment for gala parties.
Run Time: 20 Minutes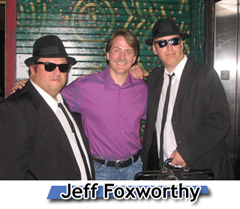 Blues Brothers with Aretha or Cab Calloway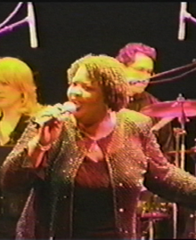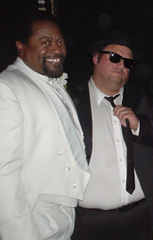 This incredible combination is a sure hit and is a good option if the 20-minute show isn't quite enough. Aretha hits the stage and belts out her greatest hits including "Think", "R-E-S-P-E-C-T", "Chain of Fools", and "Natural Woman". She then announces the two hoodlums from Chicago, the "Blues Brothers"! The "Cab" version features the grand opening number "Minnie the Moocher", followed by other great hits including "Land of a 1000 Dances", "Mustang Sally", and more. Jake and Elwood will then come barging in from the back of the house, make their way to the stage and launch into their performance. This high-powered act is topped off with a finale performance as "Aretha" or "Cab" joins the Boys in an incredible finale performance.
Runtime: 40 Minutes.
Add other characters such as "Diana Ross" or "Tina Turner" to this package to make a 60-minute show.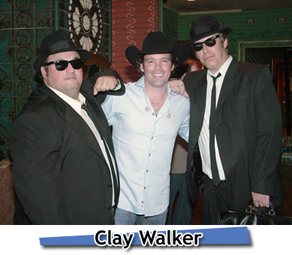 Blues Brothers with 5 Piece Band
You want it all, but your budget just can't quite make it. This package includes a 5 pc band, 45-60 minute Blues Brothers show, and 2 dance sets. All of the hits, "Honorary Blues Brother", and audience participation.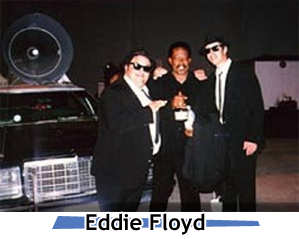 Blues Brothers with 9 Piece band and full horn section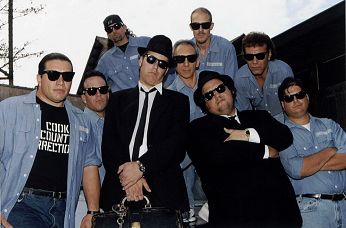 You're going all the way! This premium package is a slam-dunk with a 9-Piece Band, full horn section, 60-minute Blues Brothers show, "Honorary Blues Brother", audience participation, "Blues Brothers" meet & greet, and 2 additional 50-minute dance sets. Sound and lights (for Orlando only) are included!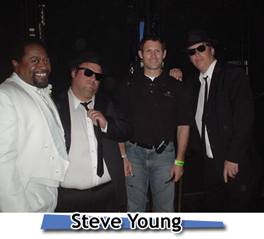 Blues Brothers with Rock Art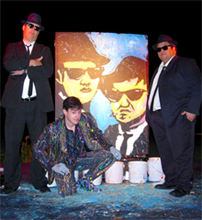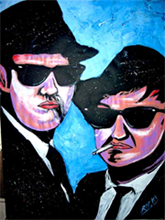 Artistic. Different. Energized. Intense. Amazing. These words will make complete sense to you after you have experienced "Rock Art". The lights go out. A spotlight reveals an artist in front of a blank canvas. The soulful "What I Say" track from Ray Charles kicks in and the artist begins to paint on the canvas. His inspiration for the piece comes from music. Suddenly, the music ignites his creativity and he explodes into an intense performance, spraying, throwing, and thrusting paint onto a blank canvas. Within moments, the Blues Brothers are created in an amazing piece of art right before your eyes.
Suddenly, the familiar "Can't Turn You Loose" track kicks in as the real "Blues Brothers" appear from behind the canvas and break into their high-energy show.
See more of rock and video at www.rockartlive.com
Recommendations:
"Blues Brothers Band" can start the evening as a jazz trio for dinner music, then expand into a high-energy 8-Piece dance band.


If the Blue Brothers are appearing after an awards ceremony, it is recommended that bar service stations are located inside the ballroom.


The best way to present the show is to hype it! Display pictures or posters of the Blues Brothers, or have Jake and Elwood pass out sunglasses.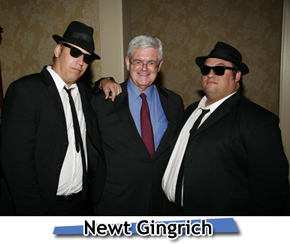 Blues Brothers with Band in Your City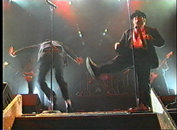 Blues Brothers have charts and will perform with other bands in your area, however a rehearsal will be required with additional fee. Show with band other than Blues Brothers band will last approximately 45 minutes.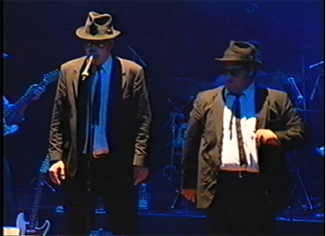 Book the Bluesmobile!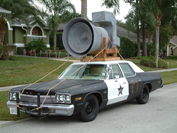 You may also book the actual "Bluesmobile" and have Jake and Elwood speed into your venue, hop out of the car and run to the stage. A great enhancement for outdoor events.

Nuns
Our hilarious improvisational Nuns will interact with your guests before and during the show. They serve as great audience motivators and will get the party going from the moment your guests walk in the door!